Autumn is just around the corner and the deciduous trees are all set to shed their residual leaves onto your well-manicured lawn. Yeah, these leaves make your lawn slightly more picturesque but as we know that the excess of everything is bad. If you do not clean them up regularly, racking the mess up will become a headache.
However, a good leaf blower can help at this point and minimise the struggle. These leaf blowers emit a continuous yet powerful air stream that blows out all the mess, including scattered leaves, grass clippings, pine needles, debris, and even the snowflakes.
In this way, this one-time investment will serve you all around the year, to tackle different cleaning tasks such as clearing foliage, cleaning debris from the driveway, walkways, and porch.
To meet the specific needs of all the customers, different types of leaf blowers are widely available in the market, ranging from lightweight, handheld blowers to the more powerful, backpack units. To figure out the type of leaf blower you should purchase, we have attached a buying guide at the end of the article.
For the further convenience of our readers, our experts tested a tremendous number of products to make the following list of best leaf blowers. All the products we mentioned below have passed through the rigorous testing procedure so we can outline their specs, drawbacks, and our findings more accurately.
Best leaf blower 2022 Comparison Table
7 Best Leaf Blower
The very first and most important factor of a leaf blower is the degree of mobility it offers. Since the leaves may be scattered towards all the parts of your lawn, around the trees, behind the bushes, on walkways, and even within the garden beds, you need to get a leaf blower which you can use freely – without making you bound to work on a specific area.
That's the most highlighted feature of this WORX leaf blower. It's a cordless tool that works by a 2.5 Ah battery and a jet-engine, brushless motor. Usually, the battery-operated tools come with average or below-average powers but this product stands out in this aspect as well.
In addition to the 56V battery, the manufacturer also has introduced turbine fan technology to the device by triggering the spinning fans to rotate at 90 mph. This blasting speed is perfect for clearing away even the wet and soggy leaves in a second.
To make it more comfortable, the layout of this leaf blower is kept hand-held. You can conveniently operate it single-handedly, where on the handle, two-speed setting modes are also provided near the thumb reach; slow speed for narrower and tighter corners while the high-speed mode for open yards.
I also found it quite lightweight, around two pounds which amazed me a lot since such powerful leaf blowers usually share a common drawback of being heavy. Also, the tool doesn't generate too loud noise which is also a plus point.
Pros
Jet-powered motor
Clear away even the wet leaves efficiently
Variable speed triggers
Fast charge and two compatible batteries
Single-handed operation
Lightweight and quieter
Ideal for small to mid-sized yard
Cons
Not as powerful as gas-powered blowers
No warranty
Another interesting thing about this WORX leaf blower is that all the WORX 20-40V batteries are compatible with this device. And since the manufacturer has also added the dual charger into the package, your blower will never get out of the charge before getting the job done.
The product we are now going to discuss is known as the most powerful battery-operated leaf blower since it is capable of performing the level of a gas-operated, wheeled unit.
Note down that when we are saying the word power, we are referring to the volume of the air stream, not the speed. And to compete with the volume generated by this leaf blower, one might need to bring the commercial-grade, gasoline-powered units in the battle. Remember, the higher the air volume, the more will be a blower's ability to move leaves.
This leaf blower is equipped with a 2.5 Ah, 56V lithium battery and you can run the blower on three different speed modes. The slowest speed mode of 250CM, the medium speed mode of 400 cfm and the turbo mode of 530 cfm. In turbo mode, the speed you'll get will be 114 mph that's more than good.
To adjust between slow and normal speed, a smooth sliding button is given; however, to set the device on turbo mode, a separate turbo button is provided. For further convenience, a smooth, rubber moulded handle is there which reduces the vibrations pretty well so your hands won't get numbed.
Despite this huge battery, the total tool weighs only 7-7.5 pounds. This weight is, although, not the most ideal one, since it's distributed all across the device evenly, you'll find it comfortable to carry. Also, a metal mount insertion point is given at the left side of the blower to attach the shoulder strap so you can carry the tool for hours without feeling fatigued.
Pros
Most powerful cordless leaf blower
Three variable-speed triggers
Higher air volume than gasoline-powered blowers
75+ minutes runtime on normal speed
Rubber over-moulded, anti-vibration handle
Point to attach shoulder harness
5-year limited warranty
Cons
Not the lightest leaf blower
Expensive
During our testing, we found it a little noisy but still, it's quieter than its gas counterparts. Since the battery will run only for 15-20 minutes on full speed mode, we'll suggest you get extra and bigger batteries so you can enjoy uninterrupted clean & sweep. However, at normal speed, it offers a runtime equal to 75+ minutes.
This product from Poulan pro is perfect for all those looking for a commercial-grade, heavy-duty and extremely powerful leaf blower. Since the very first and foremost demand of every professional landscaper is power, the manufacturer of this device paid all the attention to making it a sort of monster blower.
Equipped with a two-cycle engine and a gas-powered, 48cc motor, this leaf blower is capable of generating superb airflow of 475 CFM at an air velocity of about 200 mph. Since it is a Gas-Powered one, you don't have to worry about recharging the device over and over again. Just refuel the tank and you are good to go.
Only the superior quality material is used in the entire construction to make it last for years. Even if you use it for the entire day and abusive cleaning tasks, you won't observe anything like overheating or loss of efficiency.
Understandably, we cannot expect such commercial standard leaf blowers to be lightweight, quiet, or eco-friendly. Still, the manufacturer has tried its best to make it much more comfortable to use. For this purpose, he provided a backpack layout rather than the handheld ones. Similarly, the speed triggers are also added to control the speed and volume of airstreams.
Pros
Monster blower
Ideal for heavy-duty cleaning chores
Commercial grade build quality
Variable speed triggers
Cruise control
Highly durable
Cons
Not lightweight
Not eco-friendly
Due to the feature of cruise control, you don't need to keep pushing the trigger all the time. Just start the motor once by pulling the ripcord on and get started. it gives out way too loud noise but again, the quietness and convenience can be a bit compromised for the durability and performance you are getting.
A lot of innovations are, undoubtedly, being made in the design of cordless leaf blowers to make them capable of generating more air volume and speed but still, they cannot replace the Gas-Powered leaf blowers completely. And that's why one of the topmost products on our list is the one that gets its power from gasoline and its robust 2-cycle, 25cc motor.
Speaking of the air volume then this captivating assembly is capable of emitting the air streams of 430 CFM with 230 MPH. In this way, you can clear not only the dry and wet leaves from your lawn, but also the grass blades, cuttings, debris, and even the lighter snow.
Although the tool is Gas-Powered, it still comes in a hand-held layout with an extra-long nozzle to reach the narrower and denser areas more effortlessly. In addition to the extended nozzle, a scraper is present at one end of the nozzle to scrape out the stuck-in debris from crannies. An ergonomic handle is provided above the motor assembly which discards the probability of feeling excessive muscle sprains.
The trigger for adjusting the speed of the blower is provided near the handle, in the thumb reach, which means you can operate the tool with one hand. The overall assembly weighs only ten pounds which is less light than other typical gasoline-powered blowers.
I liked that the manufacturer added a translucent oil tank so the user can easily monitor the level of fuel to schedule refuelling. For further convenience, the company provides a bottle of engine oil within the packaging so you can get started without any delay.
Pros
Fair air volume
Trigger to adjust the speed
Long nozzle to reach tougher areas
Weight is balanced perfectly
Can be operated single-handedly
Translucent oil tank
In a nutshell, this craftsman Gas-Powered leaf blower is ideal for all those having a small to large-sized lawn. Due to being durable and capable of generating extremely powerful air streams, it will help you to clear the mess up, both from indoors and outdoors, without putting in much effort or time.
This corded leaf blower needs to be assembled by adjoining all the given components together. It could be a little harder since about 6-7 parts are needed to assemble in one. However, by following the instructions, you can complete the task much earlier.
After assembling the tool, it weighs around 8-8.5 lbs however, the weight doesn't feel that harsher or discomforting due to being balanced all across the device perfectly. In this leaf blower, there's nothing like two or three-speed setting modes, instead, you can set the speed and density at any point between 350 cfm – 410 cfm just by rotating the speed knob.
I also noticed that the manufacturer of this Toro ultra power leaf blower had paid special attention to the customization options. In this respect, besides the vast speed setting, three different nozzles are also provided – each for a different job. Likewise, by changing the position and assembly a little, you can convert this leaf blower into a leaf shredder and a fast-paced vacuum. On using the device in vacuum mode, it chops the leaves into extremely smaller pieces. Since the vacuum tube is pretty wide and long, you don't have to bend or stretch so the device could suck them up. To catch these mulched leaves from the rear end, a leaf collection bag is provided with a zip-tie. Within the same bag, you can store the parts of tools, when not in use.
Pros
3-in-1 machine
Different nozzle attachment
Continuous power source
Well designed with the premium build quality
Vast speed adjustment setting
Perfectly balanceD
Cons
Not pre-assembled
Switching nozzles is a little annoying
Mostly the combination tools come out nothing more than a failure but this toro ultra plus 3-in-1 machine works fabulously fine in every field. Besides being well-built and perfectly designed, it comes with everything that a gardener needs.
The most noticeable and highly appreciated feature of ego power garden appliances is that they are not only built to provide maximum comfort to the customers but also to satisfy their needs to the fullest. That's why the products of ego power seem to conquer the battle of the most powerful and robust gardening appliances.
In fact, the most highlighted feature of this ego power leaf blower is its astonishing power. However, it's not as strong as its other corded counterparts but still, it generates a more focused and monochrome air stream which can fly away even the dense and soggy carpet of wet leaves.
On setting the device on turbo mode, you can enjoy more extra air volume and high speed (about 650 CFM and 134 mph respectively), however, in this case, the battery will drain faster. You can set the air volume and speed of the blower according to the kind of mess you want to clean.
For this purpose, a speed dialer is provided near the thumb reach. At a normal pace, this tool can offer an extra-long runtime; equal to ninety minutes which could further increase up to 200 minutes on low-speed mode.
Pros
High powered blower
Can generate 650 CFM at 138 mph
200-minute runtime on slow speed
Brushless motor for quiet and interrupted working
Blow away even the wet leafy carpet
Variable speed and air volume
Portable and easy to operate
The only downside of this appliance is that it is heavier than other average-performing cordless blowers. It weighs around 10-12 pounds which makes it difficult to carry for ladies and elderly people.
The SnapFresh Leaf blower comes within a box of only 16″ which was jaw-dropping for us. Within the box, you'll get a motor, battery, charger, two tubes and a manual book. Before moving towards the job, you'll need to assemble the device but that couldn't be easier – even without reading the instructions.
All you need to do is to adjoin lower and upper tubes and then snap the upper tube into the motor assembly. The 20V lithium-ion battery which comes along with the product needs to charge before which takes one hour. To monitor the charging, two LED lights are provided; red to indicate the battery is being charged while the green LED indicates that the battery has been charged fully.
Once the battery gets charged, snap it into the corresponding point and you'll see how light the entire assembly feels. The total weight of the blower along with the battery is just 3-5 pounds; lighter enough so even a kid could operate it conveniently. I also like its bright neon colour and the reasonably small size. The handle is covered with rubber to make it anti-slippery.
However, despite this small size, its power is enough to blow away leaves, debris, and grass clippings from your driveway, sidewalks and porch in a couple of seconds. Two-speed modes are provided. While using the device at a slow speed (60 MPH), it keeps on working for half an hour after which you need to recharge it. However, in high-speed mode (130 MPH), you'll need to recharge the blower after every fifteen minutes.
Honestly speaking then we didn't find the working of this SnapFresh blower much satisfactory on slow speed. However, it works pretty well at high speed but again, even at the full speed, it can deal with light cleanup chores.
Pros
Easy to carry and operate
The manageable size and lightweight
Two-speed modes
Rubber coated handle
LED light indications on the charger
Pleasant layout
Comprehensive guide
Good choice for lighter jobs
Cons
Not suitable for heavy-duty cleaning chores
Low runtime
All in all, this blower is a good choice for females and the older peeps who are looking for a more manageable option to keep their yard neat and clean. However, if you want a blower for your huge property or some heavy-duty cleanups, you better should look for a more powerful option.
Buying Guide
To ensure whether you are going to buy the right and most suitable leaf blower, you need to know all about the available options in the market; what each type of leaf blower is offering and what they are lacking. Generally, you'll find three types of leaf blowers in the market such as
Gasoline-powered leaf blowers
These appliances are known for producing immense power and generating the thickest and fastest air streams. That's why such gas-powered leaf blowers are mostly preferred for commercial use and heavy-duty gardening chores.
However, since they need gasoline as a power source, they are neither eco-friendly nor they are quiet. You need to stay all time ready to hear way too loud noises and breathe in black thick smoke. Plus, they are also quite heavy that's why they often come in wheeled or backpack layouts.
If we see the positive side of the picture, then no other type of leaf blower could compete with them when it comes to durability, flexibility, and power. You don't have to worry about power out, overheating or frequent maintenance.
Cordless leaf blower
These leaf blowers get the power from attached batteries and also tend to generate plenty of power. However, they come with a limited runtime and you need to monitor the battery percentage throughout the job.
To enjoy a more extended runtime, you also have to keep additional compatible batteries and a rapid charger so you never run out of power. The best thing about such leaf blowers is that they are the most convenient appliances.
With such cordless leaf blowers, you don't have to worry about unbeatable roars, heavyweights, denser fumes, or limited mobility. Despite the battery assembly, these blowers weigh quite lighter, only a few pounds. That's why more of them come in a hand-held layout. If you need a leaf blower for a yard of ½ acre, you better consider these types of blowers.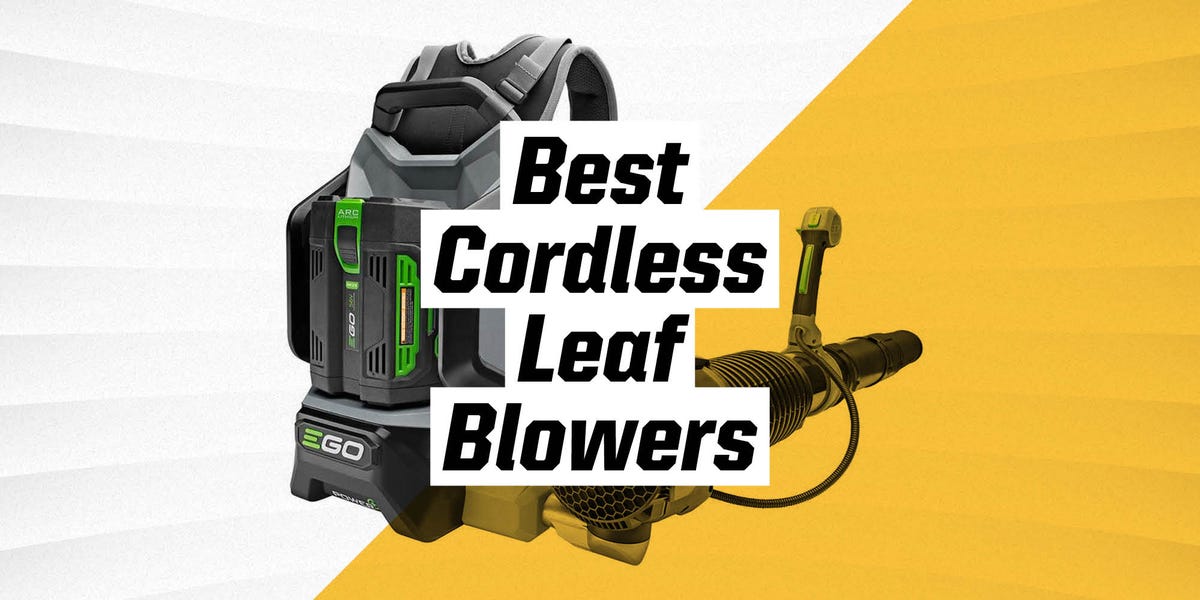 Corded leaf blowers
The last type of leaf blowers is the corded or electric ones which get their power directly from the plug-in switches. Such models could vary in terms of power, speed, and features a lot. However, the most common thing which is shared by all the corded blowers is that they offer limited mobility.
That's why our experts recommend you to buy these appliances if you are having a small to medium-sized garden. Otherwise, managing the cord and reaching all the nooks and crannies of your lawn would get quite daunting. However, most such blowers are both lightweight, quiet, and easy to operate.
These corded leaf blowers are also best for you if your budget is your foremost priority. To extend the degree of mobilisation, you can get extension cords but still, you have to stay away from moisture and water sources. Otherwise, you might have to embrace extremely dangerous potential hazards.
FAQs?
Conclusion
Still unable to figure out the best leaf blower? Don't worry since here we are, narrowing down your search list further by mentioning the top-three products, marked by our experts. Chances are, you will definitely find one of these products suitable for you and your gardening needs.
WORX WG584 40V Leaf Blower due to its jet-powered motor, ability to generate higher air volume, lightweight and manageable layout.
EGO Power+ LB5302 Cordless Leaf Blower due to being the most powerful cordless blower, 75+ minutes runtime, points to insert shoulder strap and anti-vibration handles.
Poulan Pro PR48BT Backpack Leaf Blower due to its commercial standard construction quality, high-end efficiency, and ability to generate the airstreams of maximum volume and speeds.
Don't forget that the leaf blowers, when used inappropriately, could disturb your neighbours and even wildlife. So, don't use it indiscriminately and handle it with care to unlock its benefit for decades.