Autumn is just ready to knock on your door and so are the yellowing leaves. No doubt, fall is one of those times of the year where your lawn looks heavenly gorgeous but it's also a period where you have to do tonnes of hectic yard work.
Once the fall reaches its peak, there will be heaps of endless debris and leaves that you need to clear from time to time to prevent the risk of plant diseases. If left untreated and accumulated, the soggy, wet leaves can pave the way for fungal and mould attacks which, in turn, will ruin your turf grass and garden beds.
You can manually collect the leaves from the land and stuff them in a piece of baggage to be collected by the leaf pickup services. However, doing so will not only be time-consuming but you'll also have to prepare a huge paycheck to enjoy these services. Thus, the best way of clearing this leafy mess from your stunning yard is to get the best leaf mulcher.
In this leaf mulcher, you just need to put the leaves and let the device shred or chop the debris into tiny pieces. After this, you can mulch these leaf shreddings into your garden beds and around plants and trees where it acts as an insulator to save them from wind-chills.
Besides protecting your plants from frost, this mulch coating also acts as an inhibitor to prevent the attack and growth of fungus, gnats, and pesky weeds. Is there a more productive way of disposing of the waste?
So, just dig into the next section of this article and know about the best leaf mulchers of the market which have passed our rigorous testing procedure and ensured us to provide nothing but the best high-end performance.
Best leaf mulcher 2022 Comparison Table
7 Best leaf mulcher
This WORX WG430 electric leaf mulcher is the perfect option for all those looking for a more compact, easy to manage, and efficient leaf mulcher. This electric mulcher comes with plenty of jaw-dropping key features which are sufficient to satisfy the needs of every lawn owner.
First of all, this machine is equipped with a bladeless chopping system which means there are no dangerous metallic blades to chop down the debris and put your safety at risk. Instead, a thick trimmer line is used for this purpose. However, the line is sharp enough to mulch the leaves in an 11:1 ratio.
In other words, if you are having eleven bags stuffed with leaves, this mulcher will chop those heftier loads of leaves to make a single bag of vitamin-rich compost. We also added some thicker leaves and twigs into the oversized mouth of the mulcher to check whether the line could cut it down and surprisingly, it showed the same efficiency as it showed thinner and lighter leaves.
Unlike metal blades, you can conveniently replace this trimming line each season to maintain the same efficiency. And the best part is, you don't have to grab a professional toolbox to replace the line. To eliminate the dust out of leaf piles, dust reducing system is introduced which separates both the mulching leaves and dust. The dust is, then, piped out of the mulcher via the exhaust.
Since it's an electric mulcher, it consists of a mighty motor that can run at a pace of about 8500 RPMs. With this speed, you can get rid of more than fifty bags of leaves per minute. In other words, it doesn't matter if you are storing endless piles of foliage, this appliance will take only a few minutes to turn them into a 100% organic and nutrient-rich fertiliser.
At the collection end, a bag holder is provided where you can attach both all kinds and sizes of bags to collect your mulch. Starting the system is also way too easy since all you need to do is to press the start-up button.
Pros
Oversized mouth
Dust reduction system
13 AMP motor generates 8500 RPM
The wide cutting ratio of 11:1
Heavy-duty trimming line instead of dangerous metallic blades
Easy to store and start
Eco-friendly and ergonomic
Cons
Wet leaves are hard to shred
Not pre-assembled
In the end, you can conveniently dismantle the entire unit into separate components for easy storage. Assembling and disassembling the machine takes 3-5 minutes hardly. The entire unit weighs only twenty pounds which adds further to its value.
The second power mulching tool on our list is the Earthwise LM1313 which is designed specifically to get high-end performance without damaging the environment. Yes, it's another electric mulcher that works on a 13 AMP motor.
This heavy motor is capable of shredding 55 gallons of leaves and small twigs in a single minute without getting heat-up. Plus, the mulching ratio you can achieve by using this tool is 16:1. In this respect, this electric shredder works finer than other products and chop down the foliage into extremely fine shreds.
The biggest advantage of getting such petite leaf shreddings is that they are not only easy to store but also grab lower space in your garden beds, without cluttering them completely to give off a disgusting look.
However, if you want somewhat bigger chunks in the mulch, you can make the power adjustments by choosing one of the three mulching modes. To insert the leaves effortlessly into the hopper, a wide 19″ mouth is provided. Similarly, to collect the shreddings, some clippings are provided to which you can attach a collector bag.
Mostly the leaf mulcher tends to show a reduced efficiency when it comes to shredding wet leaves, however, this tool proved itself as an exception. During our testing, we observed that this machine can cope equally fine with both the dry and wet leaves. In this way, you won't have to worry about the jamming of the main engine or clogging of the exit point.
The whole unit weighs slightly heavier but thanks to the manufacturer who added the wheels to the design by which, moving the machine all across the yard gets way too hassle-free. You can adjust the height to adjust the funnel as per your comfort level.
Pros
Three different power modes
16:1 mulching ratio
Produce finer mulch
Chop dry and wet leaves with equal efficiency
19″ funnel mouth
Wheeled layout for easy navigation
Points to attach the collection bag
Cons
The dust reduction system doesn't work so well
The only downside is that its air reduction system doesn't work as efficiently as that of Worx WG430 does. Some of the debris is kicked out of the unit via the exhaust but some leave the unit through the funnel side, which means, you have to wear a mask – especially if you are allergic to dust.
It is also a heavy-duty electric leaf mulcher that offers the mulching consistency resembling that of powder. The credit goes to its extremely powerful 15 AMP motor and steel blades.
These steel blades can cut even the wood chippings down into the powder which means, you won't have to pluck off the leaves from the branches. Just insert them into the steel chute in the form of twigs and branches, and let the shredded grind everything for you. However, avoid throwing stones into the hopper since it could lead to damaging or breaking the blades.
Since the motor is quite sturdy which can run at a pace of 4100 RPMs, so you can happily run the unit for several hours without a break or without fearing the damaging consequences like overheating or loss of efficiency. Just as the Earthwise leaf mulcher, it also comes in a wheeled layout so you can steer its heavier steel-built body easily.
The feature which I found most impressive is its ability to deliver such an industrial-standard performance without torturing you with filthy noises. Plus, the company provides a special catch bag along with the machine that is specially made up of tear and water-resistant, PE coated fabric.
The only drawback of this mulcher is that it shows a declined efficiency with wet or soggy leaves. Since the machine chops everything into fine granules, the wet mulch might end up sticking into the motor and collection point. In this case, you have to empty the entire unit and clean it up thoroughly to make the device work at its original pace again.
Pros
Mulch the leaves into powder
Steel blades to chop twigs and branches
Professional and heavy-duty
Tear and water-resistant collection bag
Wheeled layout
Powder-coated steel body
15 AMP motor that runs on 4100 RPMs
Cons
Might get clogged on adding wet leaves into the hopper
Steel blades might be broken down on hitting stones or large sticks
To make the unit more user friendly, and on/off and overload protection switch is given for correct usage. Overall, this land Worx Leaf Mulcher is easy to operate, quiet, and eco-friendly and if you are looking for a tool that could serve you for your entire life, you should consider it for sure.
This super handy Leaf Mulcher/shredder is one of the most efficient options for all homeowners and the feature which makes it stand in this category is its gigantic collection bin. The capacity of this hopper is about forty litres and due to being light in weight, emptying and re-attaching it with the unit is quite easy.
One thing which we like to mention here is that this leaf mulcher suits only those homeowners who have a wide lawn. Otherwise, its super bulky assembly and heavy layout will grab too much room in your lawn or storage room, without delivering what it's famous for.
To make this tool long-lasting, its housing is built up of powder-coated steel and for more manageable transporting, a six-wheeled frame is mounted beneath the unit. Since it's an electric leaf mulcher, it consists of a 15 AMP motor that is capable of generating 4,100 RPMs without emitting unnecessary smoke or noise.
Pros
Eco-friendly and safe to use
Push pedal system for advanced safety
Powerful 15-AMP motor
17:1 mulching ratio
Powder-coated steel frame and body
The huge 40-litre collection bag
Ideal for large-sized residential lawns
It's also a plus point that the manufacturer didn't overlook the safety and protection aspects and added a push pedal system so you can propel the leaves and twigs towards the blades while keeping your hands away. For quick start and stop, an on/off switch is provided. These blades can finely chop the twigs and small branches into the mulch at the ratio of 17:1, which is quite impressive.
When you are up to more than just disposing of the falling foliage and converting them into compost, snow Joe could serve you incredibly. The most standout feature of this snow Joe electric leaf mulcher is its versatility and ability to tackle so much yard work, without needing additional attachments.
This mulcher is equipped with a 13-AMP motor which can generate 1800 RPMs and the 0.95″ trimmer line allows you to shred other by-products of your yards such as the thatch, grass clippings, pine needles, etc. along with the dry leaves. For better control, the manufacturer has added some control dials. Using these triggers, you can prepare the device specifically for what you are going to throw into it.
Not only can this machine chop everything softest to hardest, but complete the entire shredding quite efficiently and neatly. If you are having sixteen bags of waste, this tool will turn those sixteen bags into one to make everything compact and super-manageable. In one minute, the mulcher could chop down about 55 gallons of both dry and wet leaves.
Pros
Mulch every kind of yard waste
Chop 55 gallons/minute
16:1 mulching ratio
Triggers for better control
Dirt reduction system
Extremely easy to use
Cons
Not the quietest mulcher
Need to clean regularly
Motor cooling systems keep the dirt away from floating in the air and keep your surroundings clean by limiting the amount and direction of the debris. However, to keep the mulcher run with the same efficiency, we'd suggest you clean its filter regularly.
This power smart leaf shredder, as the name implies, is all about powerful performance and smart design. However, these two features are not the stimulus that impels us to make this product an inclusion to our list, but It's the not-so-heavy price tag.
Yes, if you are looking for a budget leaf mulcher with the power mulching capacity of high-end tools, you better should go with this power smart appliance. It is equipped with a brushless 15-AMP motor that is not only long-lasting but also works quietly.
The blades can mince the leaves, twigs, foliage, grass clippings, and even the toughest sticks and branches. However, make sure that the branches won't be thicker than 1⅝". Besides the triggers for overload protection and on/off switch, a safety knob is also added to the design to keep the lid closed while the blades are rotating.
Pros
Lightweight yet powerful
Mulch vast range of yard waste
Advanced safety features
Brushless 15-amp motor
Budget-friendly
2-wheeled layout
2-year premium service warranty
I also felt that this shredder weighs quite lower than other commercially available mulchers and despite being lightweight, the manufacturer has added a 2-wheeled layout for effortless movement. Plus, the 2-year premium service warranty makes it the best-valued leaf mulcher.
Whenever the name of Craftsman pops up, we know that we are going to test something impressively flawless and unique. This 3-in-1 power tool of Craftsman is another remarkable addition to the brand's premium category.
On getting this tool, you won't have to worry about piling the leaves up, bagging them one by one, and then mulching the foliage using separate devices. All you need to do is to press a different knob every time.
I was really impressed by the way the manufacturer discarded the need to change attachments. Due to the all-in-one layout, you can effortlessly switch from one mode to another. Enable the 450 CFM blower feature and you can organise the scattered foliage into piles. After this, enable the vacuum mode and keep on mulching the leaves at once, uninterruptedly and super quickly.
In this way, you can get over your yard cleanliness task by handling multiple chores at once so you can enjoy your remaining free time with your family. Most importantly, it is extremely affordable and stands prominent in the list of best-valued hybrid gardening tools.
Pros
3-in-1 premium tool
Easy to switch from one mode to another
450 CFM blower
Handheld device for more flexibility
Comfortable and easy to use
Cons
Not suitable for wet leaves
Since it's a handheld device, the catching bin is provided as a backpack. Thus, during the operation, you need to carry the 55-gallon mulch baggage over your back which will impart you more mobility.
Buying guide
While shopping around for the best leaf mulcher, the first thing you will notice is that there are multiple types of mulchers available – each one is different from the other one based on the power source, mulching capacity, noise, and efficiency.
The factor that is most important to consider to make the most correct choice is to check whether a tool is sufficient to satisfy your needs? But how would you find it out? Simply by looking for the things each model is offering.
Best mulchers for large lawns
Electric or corded mulchers are the most common and most high-in-demand due to various reasons. First of all, they don't pollute the environment by releasing harmful heavy emissions. Secondly, these corded mulchers offer the most ideal performance and capacity which suits homeowners, with large gardens, excellently.
You'll get to know a vast power and layout range when it comes to electric leaf mulchers. From handheld to backpack to wheeled, every newer model shows a gradual increase in mulching powers with finer chopping diameter.
Best mulchers for small lawns
Cordless leaf mulchers are best for homeowners having a small-sized yard since they impart more flexibility. Depending upon the size of the battery, their runtime may range from 10 minutes to one hour.
Since they are built according to the handheld layout, they are easy to transport and carry along due to being lighter in weight. Another significant advantage of using cordless mulchers is that you can enjoy quieter working, without feeling the guilt of contaminating mother nature. Don't forget that such mulchers cannot bring any good to you if you are looking for a device for abusive gardening chores.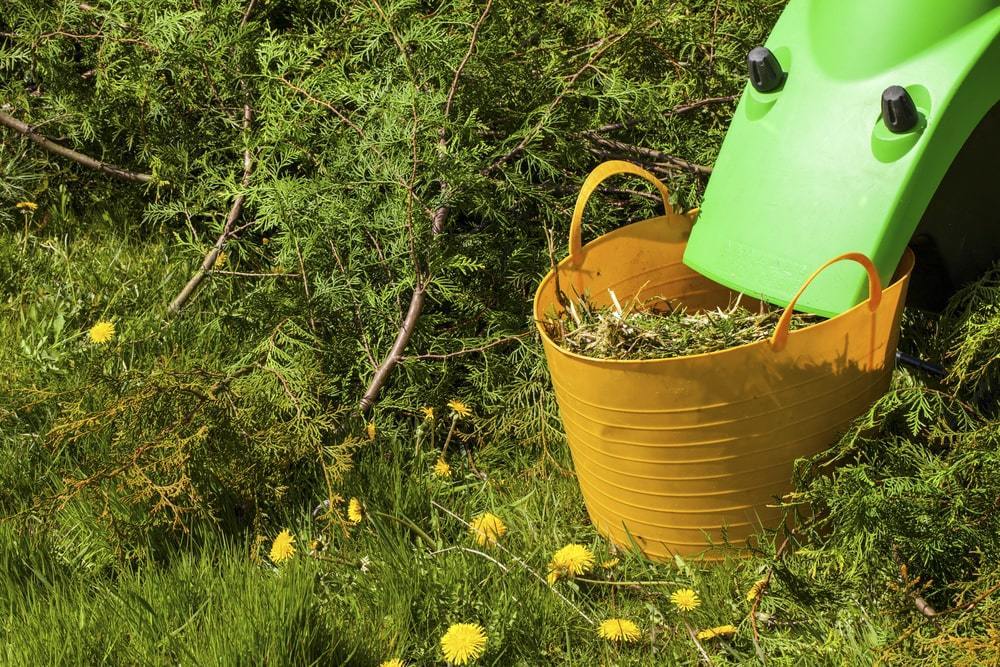 Best mulchers for commercial gardens
The last and most powerful type of leaf mulcher which is best for professionals is the gas-Powered one. Such tools are specifically designed to deal with heavy-duty cleaning jobs. Since they get their power from gasoline, you can enjoy greater flexibility and mobility, without being bound by the limited cord length.
However, such types of leaf mulchers are not highly recommended since they are not eco-friendly at all. Plus, they also give out unbearable noise which can disturb both the wildlife and your neighbours.
FAQs?
Conclusion
Still on the fence about choosing the best leaf mulcher? If so, then here are the top-three leaf shredders and mulchers that are the best from all aspects and strongly recommended by our team of experts.
WORX WG430 Electric Leaf Mulcher due to its oversized funnel mouth for easy filling, portable, more compact layout, and reasonable mulching ratio.
Earthwise LM71313 electric Leaf Mulcher due to its variable mulching modes, equal efficiency for dry and wet debris, and wheeled layout for easy navigation.
Landworks Leaf Mulcher due to its heavy-duty steel blades, powder-coated steel body, and tear-resistant catch bin.