The primary factor which keeps a garden thriving is its nutrient-rich soil. The better and richer the soil, the greener your garden will be. However, due to nutrient depletion and disturbances of the food chain, both the biotic and abiotic factors of our ecosystem are suffering.
That's the point where fertilisers come to help by acting as an external source of nutrients. These fertilisers, undoubtedly, enhance the quality and quantity of harvest at once but since most of these fertilisers are also high in toxic chemicals and metals, they end up contaminating both the soil and ecosystem.
Thus, the need of the hour is to find a way by which we couldn't only save the environment from deteriorating but also stabilise the food chain. And the technique which is proving most helpful in this regard is worm farming, also known as vermicomposting.
What's this worm composting system, which worms are the best to be used for this purpose, and how you can build your worm farm for your garden? Let's find out!
Worm composting system
In the process of worm composting, we recycle the organic waste including food scraps and shredded papers with the help of worms. The worms eat up all the waste and excrete the worm compost, also called vermicompost, via their excretory end. This vermicompost is extremely rich in nutrients and acts as an organic and environment-safe fertiliser for your plants.
The entire process is held within a deep waste bin, which is called a worm composting system or worm farm. In this way, this system not only provides a compact way to get rid of daily organic waste but also serves as quite an inexpensive method to prepare your fertiliser.
One may wonder why we can't just drop the food scraps into the garden beds and wait for them to decay? The reason is that when this waste decomposes on itself, it releases toxic chemicals into the ecosystem. On the other hand, when the waste is consumed by worms, it not only minimises the toxins emission but the compost, which is secreted by worms, also comes out with worm mucus and worm casting.
Both the elements bind with the compost to make it a slow-release fertiliser. Also, they keep the fertiliser in place for a long time so they won't be washed out by rain.
How to build a worm farm?
Building a worm farm doesn't require you to spend a huge investment. All you need is a recyclable plastic box where you can feed your worms. For smaller house or lower compost needs, you can also build your worm farms in flat trays.
On the other hand, if you want to produce an immense amount of fertiliser daily, you could either convert an old bathtub or unused wheelie bin into a worm farm.
In this method, we'll tell you about how you can create a worm farm from DIY techniques so that's why we'll pin down the method of converting plastic boxes into a composting system.
Drill holes and stack boxes
Bring three opaque boxes of the same size and start poking holes in the bottom side of the two boxes. Whereas, you have to keep the third box untouched. After this, stack the two holes-containing boxes on one another and beneath these two boxes, place the untouched box.
Cover with bedding
The next step is to make bedding into the two upper boxes. You can do it either by lining them with newspaper, leaves, cardboard, straws or even vegetables. Whatever the kind of bedding you use, it should be decayable so worms can convert it into vermicompost as well, along with other organic waste.
Avoid adding scented or oil-containing leaves since worms hate them. Also, add some soil into this drilled box since worms need some to process their food. Cover about ¾ portion of the box with bedding and stir it regularly to avoid compactness or mould formation.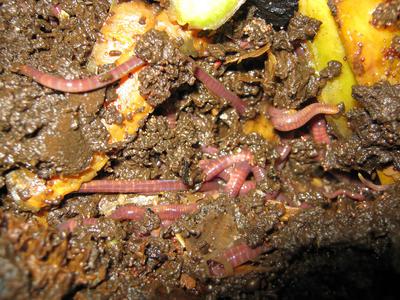 Put the worms inside
Once done with bedding, put the composting worms into the middlebox and throw the food scraps or whatever organic waste you are storing. Also, cover the opening of the bottommost box with shade cloth so only the worm tea and vermicompost fall into it and not the worms.
Maintain the internal environment
Any kind of waste can be converted into liquid fertiliser using this method ranging from coconut fibre to cow manure. Remember, you don't have to overfeed the worms since it would cause the eruption of smelly fumes and disgusting mess. Also, to maintain proper aeration within the system, add organic waste along with paper shreds in 50:50 proportion.
Just as moisture, you have some effective measures to keep the temperature of your worm farm completely optimum and ideal. During winter, cover the system with extra bedding and insulation while in summer, place the system in cold and humid places, preferably indoors. The ideal temperature is 55-75°F.
If the waste, you are up to converting, is dry, damp it a little. Especially if the weather is hot and dry, you better dump the bedding so it resembles a squeeze-out sponge – not too wet, otherwise, it'll lead to mould and bacterial growth.
Likewise, avoid throwing meat, fish, or other acidic food into the composting system since it could harm the worms and slow down the vermicomposting process. In the end, place the lid over the uppermost box and let the worms do their work
Collect worm tea and vermicompost
As the worms keep on consuming the waste, they'll start to secrete vermicompost and worm-tea. The worm tea will be dropped down into the bottommost box, from where you can collect it.
You have to wait until at least one week to collect your fertiliser from this worm farm. However, if the worms are having a larger appetite or divide extensively and swiftly, the odds are you might get the product much earlier.
Switch boxes to continue
Once this middlebox gets stuffed with worm compost, your worms will start to travel towards the topmost box. Thus, pull out the middlebox, full of compost, from the stack and fill organic waste into the topmost box for the worms to eat.
Empty that middle-level box and place it on the topmost level after bedding well. Repeat the process after every week to keep the chain continuing
Best worms for vermicomposting
If we talk about the king of all the composting worms then it is none other than red wigglers. Not any other species of worms could compete with red wigglers when it comes to the rate of producing compost and the quality of black gold. Some entomologists confirm that the red wigglers can eat half of their total body weight in a day.
Also, they tend to grow up to 5 inches in length and ⅕ inches in width. If you keep them in a slightly hot environment, they would breed even more rapidly to grow their strength. Who knows, you might start selling them after a few months!
However, if you are not having access to these mighty worms, you can also move towards other options such as follows
Blue worms
If you are living in hot regions of Asia where the temperature exceeds 80° F, blue worms are the ones who can survive in such challenging conditions. These worms can grow up to a size of 2 ¾ inches and they only need 3-4 weeks to transform from larval stage to a completely grown-up adult.
Epigeic worms
These worms are especially preferred for composting purposes since throughout most of their life cycle, they tend to feed on food scraps and organic waste. Also, they are not deep dwellers which means they stay on the top of the bedding and break down the waste immediately.
Nightcrawlers
Nightcrawlers, especially the African nightcrawlers, are the worms that we can strongly recommend for your worm farm if you are living in a humid and temperate region. Not all the worms can work fine or sustain in such an absurd climate but nightcrawlers are quite strong in this respect. However, you should not buy them for colder regions since they die once the temperature drops 40°F.
Besides African nightcrawlers, Alabama worms are also the ones who are adaptable to tropical environments and can sustain a temperature limit of up to 90°F. They resemble the worms you hang on your fishing cord and may grow up to 6 inches in length.
Whatever the worms you purchase, always purchase them from a credible vendor to ensure that you are not bringing pathogens or other harmful agents, along with the worms, in your garden. Mostly the worms are sold in pounds and one pound worms will be enough for two to three worm composting systems.
To get the most out of your purchase, get only the clean and appropriately cultivated worms. However, if you are not willing to invest in purchasing worms, you can lend some from your friends.